Hayden SuperVac Power Unit (SV9000) US$417 Web Direct Brands, Inc. - VitalHealthVacuums.com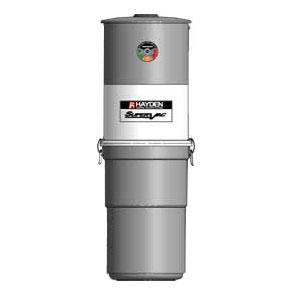 Click Image to View Larger
Product Description
Discontinued
Hayden SuperVac SV9000 Central Vacuum Power Unit
The SuperVac Premier uses the largest vacuum motor designed to run on regular household current. This powerful unit has the strength to perform with optimal efficiency in any size home. The Premier also comes with the most advanced vacuum filter, the washable cartridge filter.
Features:
10 Year Warranty
VacTrack included
SoftStart included
568 Air watts
103 C.F.M. airflow
147" Waterlift
4.75 gal. dirt Capacity
Cyclonic and cartridge filtration
Washable filter included
| | |
| --- | --- |
| As with all electromechanical devices, there is a need to monitor performance and do periodic maintenance. Hayden employs VacTrack to signal such intervals for the homeowner. VacTrack uses a system of tricolor LED warning lights to tell the user when to empty the dirt canister, clean the filter and service the motor | |
As the heart of the Hayden SuperSystem, SuperVac provides sustained cleaning power, easy maintenance, and many years of reliable performance. SuperVacs are engineered in four value-leading models for homes ranging from compact to estate size.
SuperVac is the Hayden Central Vacuum power unit. Usually located in the utility room or garage, the SuperVac contains a cyclonic separator cone and a cartridge filter which separates dirt from air with maximum efficiency. The heavy-duty bypass motor is completely self contained in the top section of the SuperVac. Special bypass design totally seals out dust. No lubrication is required.
Follow the steps for a Complete In Home Central Vacuum System